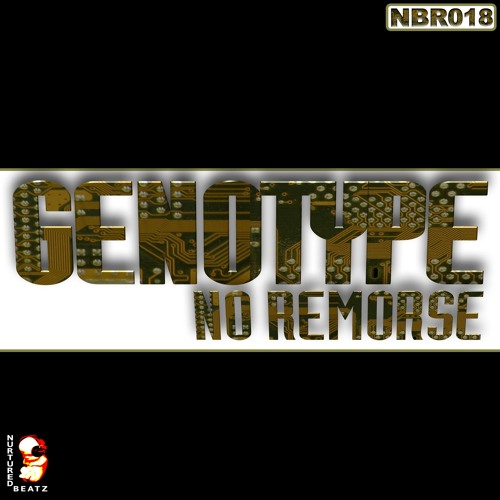 2016 is already looking like a great year for drum & bass, so without further ado we'll be taking a look at some of the worthy releases that have hit the Dojo inbox so far this year. Read on for new beats from Genotype, PIN, Sully and more…
Genotype – No Remorse LP [Nurtured Beatz]
Having provided the fledgling London label with it's first release back in 2013 it seems only fitting that the first solo album to land on Nurtured Beatz should come from scene veteran Genotype. Bringing together the deeper styles which formed the backbone of his last LP Lessons In Depth for Samurai Music and the more up front material which has peppered his discography, No Remorse is a solid outing with influences rooted in London's rich jungle heritage.
While perhaps not as exceptional as the aforementioned Lessons In Depth there's still plenty to enjoy here, with highlights coming on the tough breaks of titular album opener No Remorse, deep roller Thinker and the entirely appropriately named Dub Town. Check out the clips below and hit up the Nurtured Beatz Bandcamp store to grab the LP on digital or limited edition USB Flash Drive right now.
Sully – Lifted / Rotten [Rua]
Following hot on the heels of the excellent Flock EP for Astrophonica, Sully's jungle revival continues with two brand new tracks for the debut release on new label Rua Sound. Once again this is all about paying homage to a classic sound and Sully is exactly the man for the job, and there's a tasty halftime refix from Sam Binga thrown in for good measure. Look for this on vinyl and digital from Jan 22nd.
PIN – True / Mistakes [Goldfat]
Mitekiss's Goldfat imprint reaches its 5th release with another pair of lush liquid rollers from London producer PIN. As we've come to expect from Goldfat this is deep and soulful all the way, and it's available now at all good digital stores.
Mikal – Wilderness LP Sampler [Metalheadz]
Goldie's mighty Metalheadz wind up for the first of many LP releases in 2016 with the sampler from Mikal's Wilderness LP. Darker business from Mikal and Xtrah proves more than worthy, but the mellower vibes of sampler exclusive track When The Wind Changes stood out for us. Grab the sampler from the 'headz store now and stay tuned for more coverage of the full LP in due course. 
Soul Intent – Drifting [Exkursions]
Rounding up our roundup, the illustrious Soul Intent launches his new Exkursions imprint this month, providing a platform for the deeper and more experimental side of his output. The three tracks on show here focus more on musicality than dancefloor chops and they sound great for it, particularly on the beautiful, beatless, IDM-esque melodies of The Fading Light. Check out the lead track below and look for this on vinyl and digital from Jan 22nd (pre-orders are available over here now).