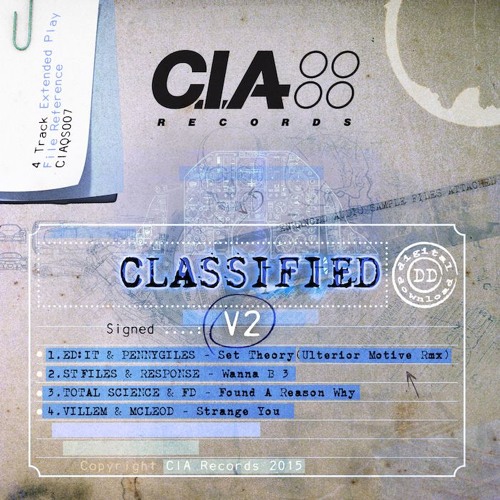 CIA are back with another storming selection on Vol. 2 of the Classified EP series and trust us, these are some pretty essential dancefloor selections. Ed:it & Pennygiles collab Set Theory gets the remix treatment from Ulterior Motive who keep the alterations subtle, retaining the vibe of the original but tuning it up for maximum punch. Next up, ST Files team up with Response for a characteristically deep outing on Wanna B 3; mellow high end floats along under an insistent, rolling break that seems primed to warm a floor before the bigger guns are broken out.
Label bosses Total Science join forces with FD for a classic liquid roller on Found A Reason Why, delivering that uplifting break-driven business that Total Science have made such a name for. Lush, sultry and sure to put a smile on your face! Last but not least, Villem & McLeod take things grimey on a stripped back halftime workout in the form of Strange You.
As usual CIA walk the line between musicality and dancefloor chops with ease and finesse, providing another fine selection for your record bag. Check out the clips below and hit up the CIA Bandcamp to cop the release on vinyl or digital right now!