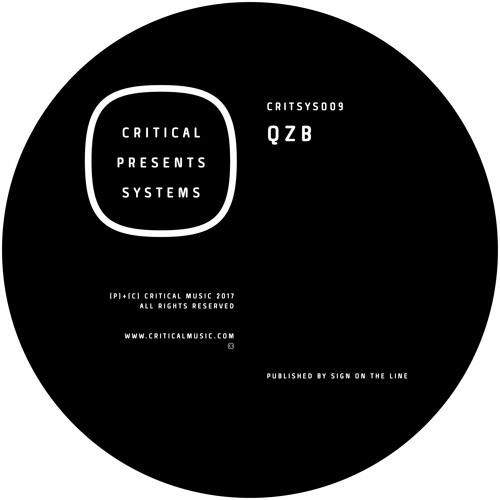 Ill be honest, until I did my homework I had no idea that QZB are the artists formerly known as QBig & Zenith B. I should have known better. Perhaps their latest EP on Critical Music will cast a net even wider than their old alias did. Systems Vol. 9 definitely demonstrates the full breadth of their talent.
WYGD features entrancing whispers of vocals throughout the track, a style that pops up elsewhere on the EP. Lace that with clever percussive elements for a perfect example of a techy roller. Apollo – my favourite on the EP – features that repetitive vocal again, but in a very different manner. A totally screwed and chopped vocal alongside jazz-funk elements make this sound like Die & Break's Grand Funk Hustle, Octane & DLRs Let Me Go, and DJ Rashad managed to pop out a child from a threesome gone awry.
Turning Point is true to its name, as for me this is where your attention turns from the vibe to the sound design. QZB seem to have captured the perfect snare, alongside a bassline that provides both textures to applaud and a vibe that matches it. I'm ready for the slating, but for me this bassline is 'grown up jump up'. That really was the turning point on the EP. Revenant is far more stripped back, but with the same attention to intricacy and quality. The track is punctuated by open snares and fidgety percussive FX, and dare I say it an arpeggiated synth that is perhaps a nod to the Stranger Things soundtrack.
Its apt that the final track of the EP is named after the mythological Norse heaven, Valhalla. Another concrete demonstration that technical prowess in sound design can be matched with the atmosphere it creates. A heavily reverberated siren in the breakdown brings that Valkyrie-esque soundscape into focus. And rightly so that QZB sit atop the mythological heavens. For me, Critical are returning to sounds that got me into the label in the first place. Whilst its clear that Kasra is building a team of artists with distinguishable traits in sound – something any team-builders should aim to replicate – I would speculate that most of their UK audience prefer their tunes deep, dark, and intricate.
Hit up the Critical Store to grab Systems Vol. 9 on vinyl and digital right now.
Written by James Austin, aka DJ Auzi, label manager at Terabyte Records
Facebook: facebook.com/auzidnb