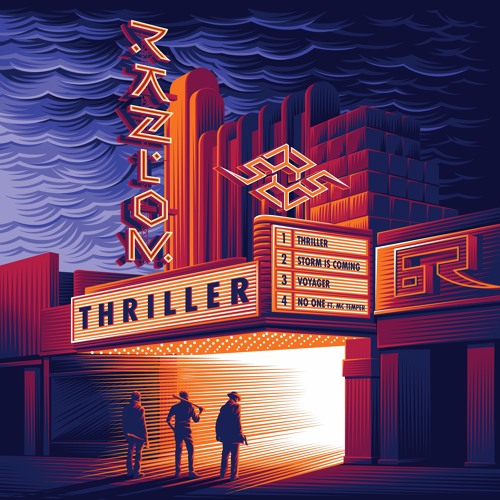 The trio known as Razlom seem to be releasing EPs with rapid fire succession, as their new EP, Thriller, is out only one month after their Arrival EP. Thriller is out on Bad Taste Recordings, which is a good choice of imprint for them due to the weird and slightly retro nature of this sophomore EP.
The EP opens with the title track, which is an excellent mix of old school dnb beats, tech step synths and vocal samples, and modern sound design. The inter-beat is so fast it almost makes the track sound a little like gabber, but make no mistake: this track is well inside the drum and bass wheelhouse, with classic wind ups, drops and sweepdowns.
Another highlight is the neuro-fueled Storm is Coming, which also has some nice techy grinds to it as well as a techstep backbeat. This will likely be a single other producers will play out, but it's still more arty and not as easily mixable as it sounds in the opening. Voyager is probably the raviest track on the EP, while album closer No One (Feat. MC Temper) has a more melodic quality, if Razlom are capable of such a thing.
While neuro seems to be the term of the day for many acts like Razlom, Thriller seems to be much more in the techstep realm, but done in a really modern and interesting way. Razlom are here to shake up the drum and bass norms with their brassy, techy way, and it's definitely none too soon. Thriller is available now on all major platforms.
Written by Layla Marino
Blog: (Dropping) Weird Science
Twitter/IG: @dropweirdsci