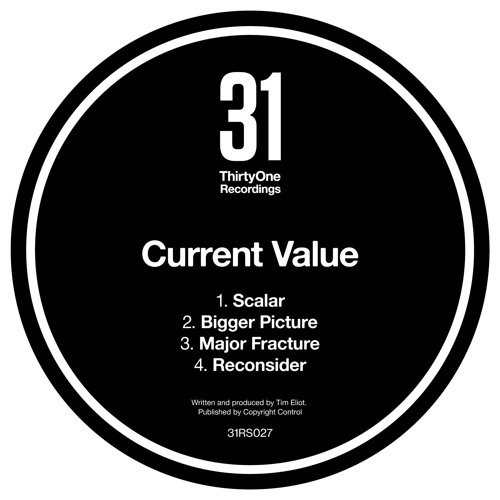 News that Current Value would be dropping an EP on Doc Scott's much revered 31 Recordings imprint came as something of a surprise. For all that 31 has showcased dancefloor tunes over the years as well as deeper fare, they've certainly never been known for the abrasive, hyper-technical sounds which have characterised most of Mr Value's recent output.
Perhaps it is to be expected then that the Scalar EP sees Current Value showcasing his softer side, though that's not to say he's betrayed his roots and put out an EP of liquid groovers. The tracks on show here almost sound like CV remixes of deep rollers; the trademark precision percussion is there, and there's certainly some bassline grit, but there are also lush pads, and a general air of reservation. If the average Current Value tune is up at 11 on the energy scale, these ones weigh in more in the 6-7 range.
The resulting aesthetic makes for some of the most interesting material the German producer has come out with in recent times, with more emphasis on contrasting sonic elements and interesting grooves. The atmospherics in particular are top notch, particularly on EP highlights Bigger Picture and Reconsider. Here's hoping Current Value decides to give us more of these delicate compositions in future! The Scalar EP drops May 5th; hit up the 31 Store to grab it on vinyl or digital.