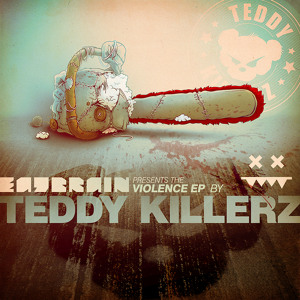 With a promising opening salvo of releases from label owner Jade alongside the likes of Mindscape, BSE, Neonlight and Mefjus, I had high hopes for Eatbrain from the beginning. Their last release from Telekinesis really raised the bar though, and their 7th release from Teddy Killerz continues in that veign; right now, Eatbrain is the label for big, angry neurofunk.
The titular Violence opens the EP in style with some serious bass riffage and a pounding drum line combined with some subtle touches of sound design and an insistent hook. 2SHY steps up to provide vocals for the near obligatory MC-imbued track Blackout, but despite the fairly generic vocal the track doesn't disappoint, providing heaps of warped neuro bass, another cheeky wee hook and a slight swung kick-led beat.
Newcomers Mizo & Zendi come to the table for the third track; Bad Omen kicks the atmosphere up a notch on the intro with some pretty epic synth swells building the track up over filtered breaks before a huge drop that brings to mind Task Horizons excellent work on the Evolved EP. The break even features a melancholy guitar solo before some apt cinematic sampling and another huge drop. Finally Jacob sees the duo stripping things back to a heavy, swung beat with little more than a kick and a snare, and a whopping great beast of a bass riff.
Watch out for this one dropping June 10th on vinyl and June 24th on digital.