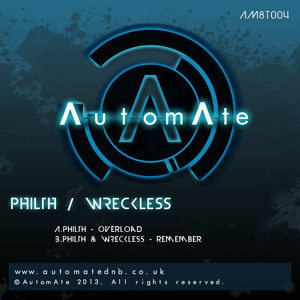 Automate Tech returns with another excellent pair of tunes from the appropriately named Philth. The man goes in solo on the A-side bringing dark, gnarly vibes in the form of Overload. Sci-fi samples, moody pads, skittering percussion and gravelly low end combine to form a belter of a tune that reminds me of old Audio tunes on Subtitles and clearly draws inspiration from a host of the best tech and neuro.
Remember on the flip sees Philth teaming up with Wreckless to deliver a skittering reese tearer with some seriously deft percussion work defining the track. Once again dark and gritty is the order of the day here, with seriously brooding atmosphere on the intro giving way to morphing basslines that are sure to see screwfaces on the dancefloor.
Watch out for these dropping via all good digital outlets on September 16th.