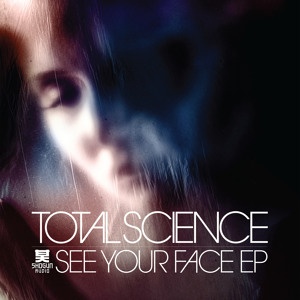 Scene legends Total Science drop their debut EP for Friction's Shogun Audio imprint, showcasing a nice variety of sub styles of D&B. The titular See Your Face sees the duo team up with go-to female vocalist Riya for a silky smooth liquid roller, all crisp drums and piano. While the tune isn't gonna win any medals for innovation, the execution is flawless and the combination of Total Science and Riya isn't one I'm gonna get bored of anytime soon.
[youtube http://www.youtube.com/watch?v=y0F03eWF3KA]
Straight into track two the duo switch things up immediately with the deadly vibes of Hush Ya Mouth, clattering straight into energetic territory with a tear-out dancefloor smasher. This one will be doing the damage in the clubs!
Out into the back end of the EP Just Want You provides an interesting juxtaposition of cut up vocal samples with blasting techstep bass set over a pretty cut-up drum line. Finally, Riya gets involved once again with a surprise tempo shift down to deep Garage territory on Suspicious. Something for everyone! Check out the previews and look out for this dropping on vinyl and digital from Monday August 26th.