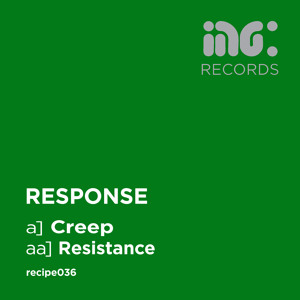 Ingredients launch not one but two excellent 12″ singles from newcomer Response. Hailing from Manchester, the up and coming producer has developed quite a knack for techie rollers which embody the darkness and heft of early Techstep productions from the likes of Ed Rush & Optical.
The first single sees Creep opening the Response salvo with a dark roller imbued with pure subby goodness. Over on the flip Resistance chucks in hard, crusty snares and a hypnotic repeated hook matched with more of that simple yet elegant sub bass.
The second single showcases some of Response's deeper beats, with Surveillance taking the foot off the gas a bit to deliver a deep liquid roller. Over on the flip One Nation makes good use of ambient pads and a reggae sample on the intro before bringing back that warm, dark, sub laid over a classic stepper's beat.
Grab yourself copies of the vinyl from Redeye and look out for the digital copies dropping later in the month. And if you want to hear more from Response, check out his promo mix for Ingredients below!