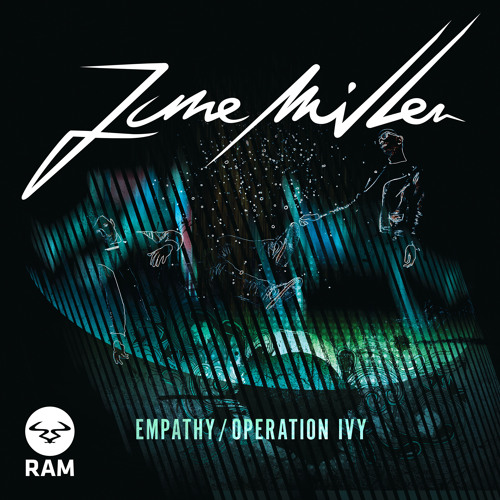 Anglo-Dutch duo June Miller have been going from strength to strength over the last few years, from strong beginnings on releases for Horizons and Inneractive, through tunes for Commercial Suicide and out into their recent signing to Andy C's RAM Records. They're kicking off 2014 with a bang with a brand new 12″, so we caught up with them for a quick Q&A about the release, their studio dynamic and their plans for the coming year.
DNB Dojo: The new 12″ is sounding sick! Upfront dancefloor business on the A-side and dark funk on the flip. Can you tell us a bit about how the tunes came together?
June Miller: Thank you! Empathy is all about the bassline and pads. We wanted something with a big bassline but still uplifting. We've been looking for vocalists but in the end we decided to just do it ourselves. 🙂 We wrote Operation Ivy a long time ago and recently gave it an update. It's one of those tunes we enjoy making because of all the small details going on.
DD: Operation Ivy sounds like a reference to the punk band, especially with the bass sound you've employed. Is that part of the JM musical heritage? Any other influences you'd like to tell us about?
JM: Yes, that's exactly what we're referencing 🙂 We've played in punk bands when we were younger and we still like to listen to punk music. I think all the music we listen to is somehow incorporated into our own music. It might not be that obvious all the time but, for example, the energy and dynamics in punk rock is really important for us and we always try to make our music intense and energetic as well. It's the same for playing live – it's sort of a way to get all our energy out.
DD: You've moved from strength to strength over the last couple of years with releases on RAM, without a doubt one of the biggest labels in the game. How does it feel to be up there with legends like Andy C? Do you find it comes with any extra pressure?
JM: Well, we're always trying to reinvent ourselves, trying to improve our own music, so being on RAM doesn't really change the way we approach music. I think our strength is our versatility and that keeps things interesting and unpredictable. When we signed to RAM, it felt perfect for us because RAM, as well as Andy C, is a great example of the whole spectrum of drum and bass. We don't have to pigeonhole ourselves.
DD: What's the June Miller dynamic in the studio? Do you have set roles when writing tunes, or is it pretty fluid?
JM: We don't really have a specific role. Usually one of us comes up with a rough idea for a tune and then we get together and make decisions about where we want to take it. We haven't got the time to do everything together, so whenever we're both in the studio we'll be working on making creative choices in a tune. You don't wanna sit in a studio together tweaking a snare for four hours. 🙂
DD: Anything in the pipeline for 2014 that you'd like to tell us about?
JM: We've just started working on ideas for an album which is quite fun but that's just in the early stages. Right now we're concentrating on making singles. We've finished two tunes with Nymfo and did some deeper stuff as well.
---
Check out the brand new Empathy/Operation Ivy 12″ below and watch out for the release dropping on vinyl and digital from January 12th.