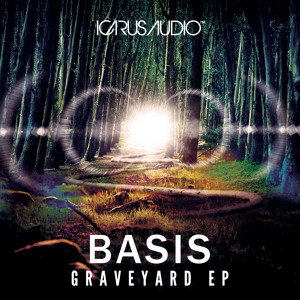 US label Icarus Audio drop their 13th release from new collaborative project Basis. Featuring the talents of four Cardiff producers, their debut release is a fearsome statement of intent; showing a talent for dancefloor worthy but still musical D&B.
Hold On Tight opens the EP with a deep yet heavy hitting combo of beats and bass and the melancholy vocal talents of Wednesday Amelia. Demon Rocker switches things up, taking the sound in a crisp, minimal direction with a hint of ragga flavour from the vocals of Flinty Badman. The titular Graveyard serves up a similar vibe, with punchy drums and dark, filtered bass alongside more ominous vocals and sorrowful strings. Last but not least, Submerged closes the EP with a hefty riddim and some judicious amen chopping.
Basis seem destined for big things based on this EP! Check out the clips below and grab the release on vinyl or digital from your favourite outlet now.