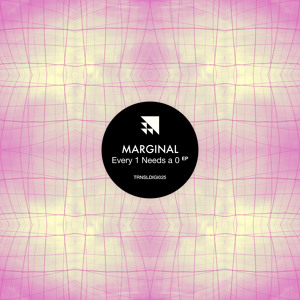 It's always a good day when a new release from Translation hits the Dojo inbox! The label has carved a great reputation for forward thinking electronica crossing over from conventional D&B into other tempos, genres and styles, and their latest release from Marginal is no different in terms of either variation or quality.
Plastic World opens the EP with a slouching, downtempo fusion of hip-hop, reggae, synthy ambience and contemporary bass music, with the result sounding shimmering and lightly toasted. No sooner than the last chord echoes out over the speakers that the mood switches, retaining the futuristic synth vibes but bending them to a more intricate composition on Datasaur; this one doesn't float so much as being driven along by crunchy bassline goodness.
The titular Every 1 Needs a 0 ups the ante, bringing rapid syncopations and the influence of trap and footwork to the table. Percussive details form the backbone of the track, with spacey FX echoes and big warm, dubby bass filling out the vibe to occupy a massive sonic space. Last but by no means least, the creepily titled Anesthesia Is Useless comes the closest to "traditional" D&B in outlook, pressing forward with tight, insistent beats and heavy sub rumblings alongside wild synth stabs and robotic warblings. Futuristic business!
Check out the clips below and head over to the Translation Bandcamp now to pick this up right now – full digital release to come November 24th.