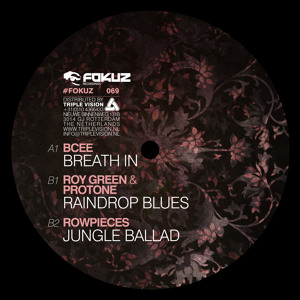 The latest EP from Fokuz features another fine selection of melodic liquid rollers, with tracks from BCee, RoyGreen & Protone and Rowpieces all gracing the release. The Spearhead boss gets the A side, with his customarily rich sound in full effect on the smooth, laid back Breath In.
Over on the flip RoyGreen & Protone bring us a jazzy ode to precipitation, while Rowpieces showcases his finest break chopping skills on Jungle Ballad; no prizes for guessing the influence he might be drawing on for this one. Last but not least, digital buyers are treated to a nice bonus in the form of Renaisance, with RoyGreen and Protone going slightly off piste with a selection of unusual FX and atmospheres set to another crisp, rolling beat.
All in all another fine Fokuz release! Check out the clips below and grab this on vinyl or digital from your favourite store now!