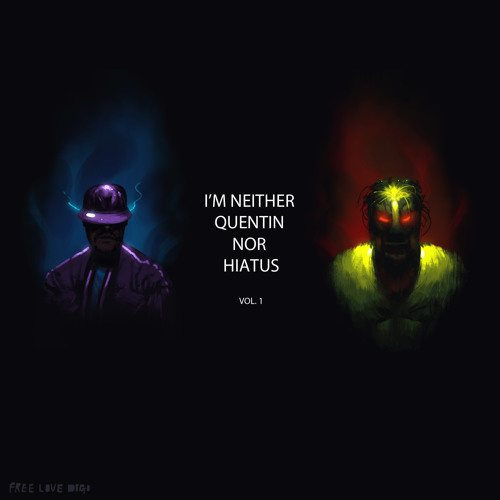 Quentin Hiatus' work has been skirting the boundaries of Drum & Bass for some time now, blending hip-hop, halftime D&B, footwork and who knows what else to craft a style which is almost impossible to pin down or pigeon hole. His latest mini LP, I'm Neither Quentin Nor Hiatus Vol. 1, drops on his own Free Love Digi imprint next month, and it features some of his most exciting aural experiments to date.
Let's be clear straight away; this album isn't drum & bass by any conventional definition. The influence of 20 years of jungle and its offshoots undeniably informs Quentin's music, but this latest release features few if any of the genre's standard tropes beyond a shared tempo region. Purists expecting 2-step rhythms or amen breaks may well be disappointed, but open-minded listeners should find themselves drawn into a rich tapestry of sounds and feelings unconstrained by the more formulaic standards of electronic music.
The LP features a wide range of vibes across its seven tracks, ranging from the funky halftime hip-hop of Wait Right Here to the threatening techno infused sounds of 56 and out into the semi-ambient synth ramblings of Kuchi Kopi. While some of the tracks feel like they could move a few dancing feet, for the most part this feels like a man trying (and indeed succeeding) in converting his inner thoughts to music without much concern for how the end product will fit into anyone else's expectations.
Abstract, beautiful and challenging, this is an LP that may well be overlooked in the sea of more easily consumable DJ friendly-fare, which would be a great shame. Expand your horizons via the clips below, and look out for the LP dropping from November 11th via all good digital stores.