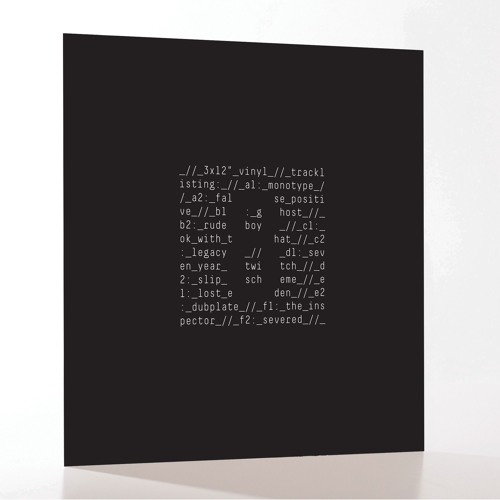 For whatever reason D&B supergroups seem to be making a bit of a comeback at the moment; whether through coincidence or design in recent times we've seen the emergence or re-emergence of The Levels, Bad Company, The Binary Collective and now Module Eight. It's probably not a coincidence that dBridge is at the centre of so many of these collectives new and old either; being one of the scene's primary innovators for a couple of decades gives you ideas that are worth sharing, one assumes.
Module Eight sees dBridge teaming up with fellow Exit contributors Loxy, Resound, Kid Drama and Skeptical for thirteen tracks collaborated on entirely online (presumably due to busy schedules and Resound's location in Finland rather than London), and the results are impressive. If the old adage "too many cooks spoil the broth" has any relevance to D&B, apparently five cooks still isn't too many!
Legacy feels surprisingly consistent for an album with so many producers behind the console; while there are certainly little hints here and there of each producer's individual style, you'd struggle to put your finger on any one personality dominating any of the compositions. Guessing where one musical mind ends and another begins might prove amusing for the heads, though we'd challenge anyone to come up with any particularly solid conclusions.
Thematically the album is dark and complex, but in the refined way we've come to expect from Exit rather than the ADHD hyper-complexity of some of the more dancefloor oriented D&B business. Flickers of the autonomic sound shine through in places, though in general more in rhythm than tone; the lush futuristic synths of tracks like Seems Like are largely absent in favour of creepier, colder soundscapes which evoke urban grit more than future soul. There's also more than a passing nod to the classic techstep sounds that both Loxy and dBridge helped to develop, particularly on Ghost and Legacy.
With a solid mix of dancefloor appeal and deeper sound design and texture, it's difficult to fault Legacy, and the more discerning crowd will definitely lap this up. Check out the clips below and hit up the Exit Bandcamp to pre-order a copy ahead of the release this Friday.