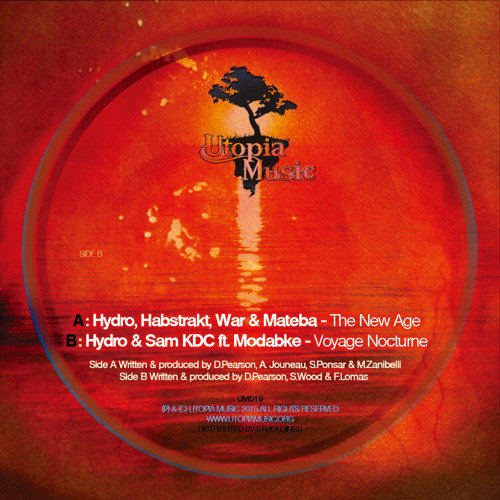 Mako's Utopia Music imprint has been relatively quiet lately, probably due in no small part to Mako's increasingly busy release schedule and his work on an LP for Metalheadz with DLR (which we can't wait to hear).  Busy schedule notwithstanding, it seems the label is still getting some love as evidenced by their first new 12″ since Inner Revolution dropped at the start of the year.
Both tracks on the latest release come from super-collab style lineups, with Hydro at the centre of each. He's recruited Habstrakt, War and Mateba for a chunky halftime outing on The New Age, which is all heaving sub bass and perfectly placed percussion, plus a few ominous pads for good measure. The track carries a really deep, tribal vibe and the overall effect is absolutely hypnotic.
Over on the flip Hydro is joined by Samurai Music/Auxiliary mainstay Sam KDC and unknown quantity Modabke for the achingly beautiful Voyage Nocturne. This one goes well outside of what can really be called D&B, hitting more of a downtempo/ambient vibe but still with those super crisp drums and an element of dark bass gargling away in the background behind the wash of jazzy licks, spacey synths and other instrumentation. If the first track was hypnotic this one is full on trance-inducing, and defies a worthy description.
Utopia Music continue to be one of the most exciting and innovative labels in the game, and we hope their strong tradition continues around Mako's journey to the upper echelons of the scene! Check out the clips below hit up your favourite store to grab this on vinyl or digital right now.