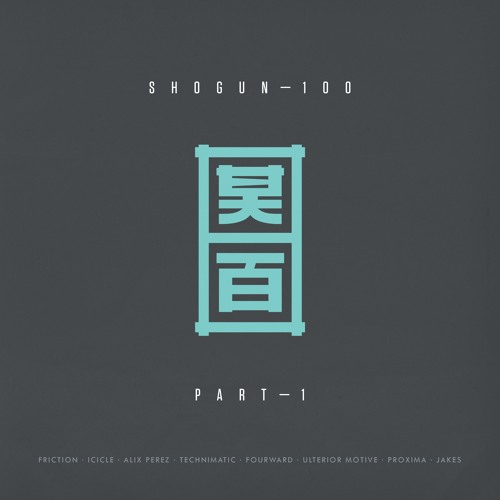 We round up the best of the rest once again! New music from Shogun Audio, Hospital, Soul Trader, Lockdown, Terabyte Records and more…
Shogun 100 – Part 1
Shogun begin their 100th release celebrations with the first of four EPs due over the coming months and they've secured some killer tracks for the release! Ulterior Motive lead the charge with the Raiden-esque techstep of Radian (we see what you did there guys…), swiftly followed by a savage slice of futuristic neuro from Icicle & Proxima on Stimulation.
Technimatic deliver a trademark slice of floaty, uplifting liquid on Transference, leaving it to the enigmatic Alix Perez to close the release with a stripped back refix of Friction & Fourward's Battle Scars. Varied delights to be sure, and a fine start to a set of releases which should justly honour the label's varied history. Look out for the EP on vinyl and digital from Friday.
The Future Sound of America [Hospital]
Hospital take their Future Sound of… series stateside with six new tracks from some fantastic US producers. There are a few surprises to be found here too; producers like Evol Intent and Gridlok not normally associated with the Hospital sound provide some worthy tracks for the release, with the latter teaming up with Jamal to go full liquid! Elsewhere there are tracks from Submorphics, Ownglow, Greazus & Sinistarr and Quadrant, Kid Hops & Iris – tasty selections for the melodic heads.
Schematic – Creep [Inner City Dance]
Toronto producer Schematic brings a pair of tidy tech groovers to Inner City Dance. Yeah, What? provides a solid slice of techy dancefloor fodder but for us it's all about the quirky and faintly lecherous Creep on the A side. Weird and wonderful!
dRamatic – Save the Game [Flight Pattern]
dRamatic brings his wares to Flight Pattern and the resulting single features two deep, melancholy rollers. Save the Game definitely steals the show here with it's shimmering, effortless beauty; lush.
Pan – Iron Clad / Elephant Gun [Hardwired]
Terabyte's Hardwired sublabel returns with their second release, following on from the label's launch via a fairly hefty compilation LP last year. This time it's London producer Pan on the buttons and he turns in two dark, grimey cuts on an experimental 170BPM tip. Focussed on groove, atmosphere and unusual percussion, fans of the deeper sounds of the D&B spectrum will enjoy this one.
Zerosum – Brutalism EP [Lockdown]
Lockdown's latest sees Brum's finest stepping up to the plate as Zerosum delivers the Brutalism EP. While the tougher dancefloor flavours of Brutalism and Postosuchus are more than worthy, the EP's more eccentric cuts caught our ear to a greater degree. Teeth delivers a fantastic halftime groove laid under a twinkling melodic lead, while the playful bongo groove of VR is just irresistible. Noice!
Metro – 
Scrap Metal Man [Ortem]
Metro is back at it with the second release on his Ortem imprint and it's packed with experimental flavours once again. Crispy sound designs and weird percussion are the order of the day here, adding a hint of IDM influences to the world of D&B.
Future Classics [Junglist Network]
Last up for today, Junglist Network's brand new Future Classics mix CD provides fifteen jungle and dubwize cuts lovingly mixed by Walshy Selecta for the bargain price of five of your British pounds; can't argue with that at all! Check out a minimix to promote the release below and hit up the label store to grab a copy right now.