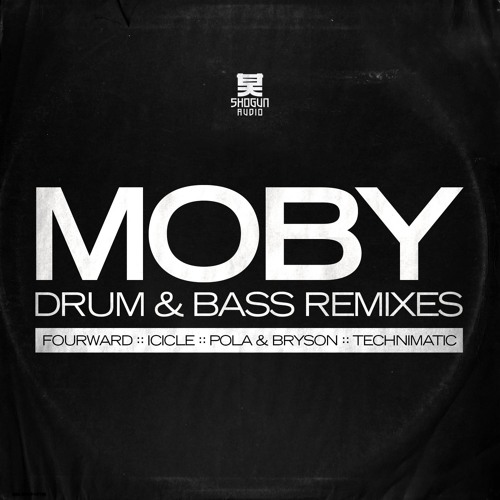 Shogun Audio present a very special release this month as four of their label family go in on remixes for the legendary Moby! Tackling such iconic and recognisable material is both an honour and a daunting challenge, but thankfully each of the artists has risen to that challenge and turned in some really memorable new versions within the D&B template.
Pola & Bryson and Technimatic turn in perhaps the most obvious remixes of the collection, sticking to their strengths and bringing some delicious liquid reworks to the table. The P&B remix of Porcelain in particular is just so lush; all the instantly familiar parts of the original are there, within a crispy framework of rolling breaks, warm bass and bubbling arpeggios.
Fourward also do a commendable job on their remix of Go, with the classic string segment matched by swelling reese basslines before a rough techy drop. Possibly the best of the bunch comes from Icicle though, harnessing the piano and vocals of Natural Blues into one of the wonkiest halftime compositions we've heard in a while. The beats and bass are positively lurching on this one, giving a really seasick lilt to the lyrics. Sick!
As with all the best remixes these are instantly recognisable yet entirely distinct from the originals; the Shogun camp have smashed this one. Check out the clips below and hit up your favourite digital outlet to grab the EP now.