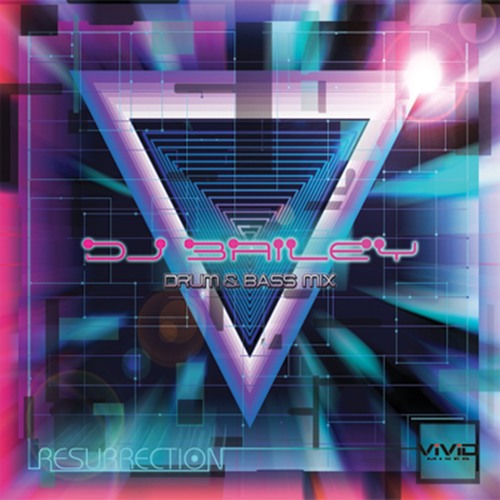 Vivid Sounds' latest project sees them bringing scene legend Bailey on board for a tidy new mix entitled Resurrection. Packed full of belters from the likes of Dillinja, Ruffige Kru, Paradox and Future Prophecies, the mix feels like a love letter to the bygone era of mix CDs, and it's well worth a listen. To find out a little more we grabbed Bailey for a quick chat…
DNB Dojo: Hi Bailey, thanks for chatting with us today! How are things with you?
Bailey: Things are great! I have a new radio show on ex-Kiss FM boss Gordon Mac's new radio station 'Mi-Soul', Soul In Motion (a free fortnightly club night owned by Need For Mirrors and I) is going from strength to strength, DJing is going well and I now also teach a radio diploma course at Point Blank Music college so yeah, lots happening.
DD: So you've mixed the new Resurrection album for Vivid Sounds. How did the project come about?
B: It was an idea Vivid wanted to action but weren't sure who would be right to do the mix. D&B producer Threshold, a mutual friend of ours, put my name forward for the project. I liked the idea and happily said yes.
DD: Tracklist-wise, did you get a lot of input on the material that ended up in the mix? Were there any tracks that you would have liked to include and couldn't?
B: I had a few suggestions for additions to the track list but the final decisions were down to Vivid who definitely picked a great array tracks ranging from liquid D&B to peak dance floor fillers.
DD: We understand you mixed this one live in your studio to avoid it sounding "too tight"; what kind of setup did you use for the mix? Do you think modern mixes are losing the vibe, becoming too clinical?
B: I did the mix with two Pioneer CDJs, Serato DJ and an Akai AMX Serato controller. I always do my mixes live rather than mixed all in software on a computer. I believe it gives a mix a less robotic and more organic, spontaneous feel. You can hear it in some of the effects I was triggering on the fly.
DD: Last up, after all these years, which D&B or Jungle mix are you still rinsing out in the car/studio/kitchen?
B: This one. Bad ass tape!
---
Resurrection mixed by DJ Bailey will be available via Vivid Sounds from Nov 11th.