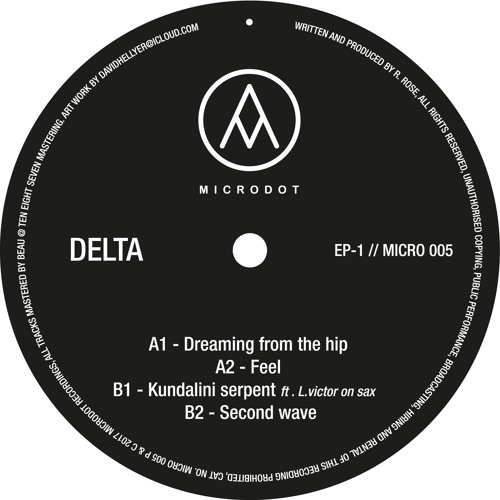 Younger heads may not recognise the name Delta, but older D&B fans (and particularly connoisseurs of the deeper end of the sound) should recognise him from his productions in the early 00s alongside production partner Format. Their concise but influential discography from that period is well worth a look, with cuts on legendary labels like Dread, Creative Source, Reinforced and Hospital for those who fancy crate digging a little.
Fast forward to 2017 and Delta is back with a fresh EP on the pair's resurrected Microdot label. The pioneering and experimental spirit remains as exciting as it was 15 years ago; there's an old school aesthetic at play, with everything from classic vocal sampling techniques to acid-y basslines weaved into the tracks. Opener Dreaming From The Hip combines a hint of b-boy funk a-la-Paradox with rolling breaks and soft pads more reminiscent of the old "intelligent D&B" style. Feel meanwhile takes things tougher, with hard edged rhythms and a stabbing set of vocal cut-ups punctuated by sections of warping analogue bass bleeps.
Kundalini Serpent goes out into jazz jam territory, combining a playful break and bassline with echoing piano and sax for a distinctly unusual take on the D&B sound. Last but not least, Second Wave throws the 2-step beats out of the window for a hypnotic bass-loop workout driven along by a truly bizarre drum arrangement. Lilting, swung and spaced out, this is possibly our favourite track on the release, and it sounds like nothing else you've heard this year.
Overall this EP shows a true pioneer of the sound back in the groove and on fine form. Broaden your horizons and head to the Microdot Bandcamp to pre-order a copy now on vinyl or digital. The release drops August 11th.