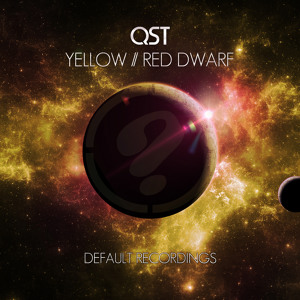 Ahead of his debut release for Default Recordings we caught up with QST to chat about his new tunes and plans for 2013.
DNB Dojo: Firstly biggups, really feeling the new tunes! Can you give us a bit of background on how these came together?
QST: Cheers! These tunes are from my back catalogue of unreleased stuff, Flapjack dug out Yellow from the vaults and asked me to use it for this release so I unearthed my old PC and transferred the track to Logic (with difficulty) and added a few synths and there you go. Red Dwarf is one of my later ones, I gave the demo to Flapjack a while ago, so when I was told it was needed for release I went back in the studio and finished it off. Red Dwarf was inspired by watching a documentary on the solar system.
DD: How did you hook up with the Default crew?
QST: It was about 8 years ago when I went to Raindance and had a couple of CDs of my tunes to give out to DJs, I saw Flapjack chilling in the Jenkins Lane room so I gave him a CD. He called me the next day saying he loved it, and he was feeling the one called "liquid funk". Looking back at that tune it was pretty original as I went from a 4/4 time signature to 6/8 on the break down and back to 4/4 which gave the illusion of slowing down the track but it actually stayed at the same BPM. Might dig that one out and remix it especially for Default.
DD: How did you get started in the scene? Any nights or labels that gave you your first breaks?
QST: I was introduced to early house/hardcore/breakbeat by my older sister who used to listen to the pirates like Green Apple and Touchdown so I got my first taste of the new "Rave" from hearing it coming from her bedroom.
When I was 16 I did a Hardcore mix tape which I was really proud of under my old name "Quest", I sent it to Eternity Magazine and won best mix tape, on the back of this I got my first DJ booking at the legendary Labyrinth Four Aces Club in Dalston which was on my 17th birthday. I played 3 sets, Old School in Main room, Jungle/Drum & Bass in the basement and a short Happy Hardcore set upstairs in the loft, for me that was the best birthday ever.
Default has given me my first release break so big ups to those guys, looking forward to seeing the label grow.
DD: What are your influences, both Drum & Bass and beyond?
QST: The most influential artists since the beginning have been Krome and Time, Omni Trio, Slipmatt, SS, Seduction, Pendulum, Noisia, Seba, Tech Itch to name a few, outside of D&B I get a lot of influence from film scores and old 70's artist like Lonnie Liston Smith, Quincy Jones, Roy Ayres etc.
DD: One for the producers out there, what one piece of hardware or software can't you live without in the studio?
QST: If I go back through all my tunes in the last 5 years Rob Papen Blue probably pops up the most, or maybe it's the EXS24 Sampler as I think I use it in all my tunes. I can't make up my mind here, sorry.
DD: What else is in store from QST in 2013?
QST: This year I'm looking to get back on the radio and do more DJ work as the last few years I've been working shift work so couldn't commit to DJing or the Radio as my shifts were all over the place. My second release after Yellow/Red Dwarf on Default will be on my best buddy DJ V and Solutionsounds' Label Subliminal Cuts Recordings, Connections will be released alongside DJ V's Rasta Man in June/July sometime. Oh and I'm planning on a big lottery win too.
---
Check out the brand new single from QST below and look out for it dropping June 10th. Watch this space for a second round of Q&A with the Default Recordings crew.
And as if that wasn't enough here's a mix from the man himself! It's packed full of techy belters from the likes of Optiv, BTK, The Upbeats and Telekinesis, and definitely worth a listen. Stream and download below!