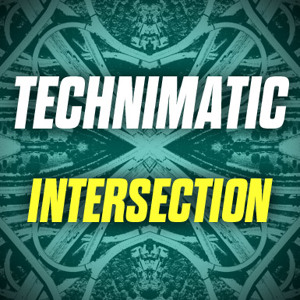 Somehow Technimatic always manage to tread that thin line of quality that is the difference between a top notch summer liquid roller and cheese-tastic nonsense. Their latest EP Intersection showcases this beautifully on opening track The Evening Loop. The super polished vocal has all the hallmarks of the sort of cheddar-step liquid that I normally find a bit tedious, but the sheer musicality in the melodies, the crisp beats and the near perfect composition are just impossible to argue with.
The titular Intersection takes things a bit deeper, laying down a pretty meaty reese bassline and stripping the piano back in the mix slightly. Light enough to amp up a liquid set, tough enough to roll out in a tech set, this is definitely a versatile tool for the record bag. Sphere also delivers a tidy slice of melody driven D&B, taking the roll down a notch in favour of a stepping beat and some hypnotic lead synth work.
As far as I'm concerned though, these are just pleasant entrees for the true main course, hitting home with the absolutely stellar Frozen Leaves. Up there with the best liquid rollers that the likes of Blu Mar Ten, Seba and Total Science have knocked out over the years, this tune is deep, rolling euphoria at it's absolute best. Every single layer sits in the mix perfectly without overshadowing the other elements, with piano flourishes icing a big, warm, melodic cake of majestic proportions. This is *the* liquid tune of the year, and the soundtrack to your summer. 

Watch out for this one on vinyl and digital July 8th.