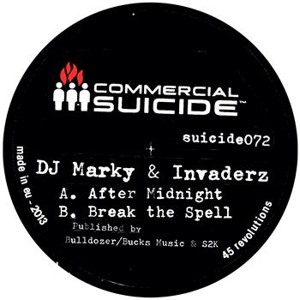 Marky & Invaderz step up to the plate with a pair of liquid rollers imbued with the sambass essence that made Marky's name. Equal parts groove & funk, After Midnight serves up a silky smooth liquid beat embossed with understated synth work and tasty filter sweeps.
Over on the flip Break The Spell heads for more euphoric territory with an irresistible hook and a tougher break that's sure to get the party moving. Make no mistake, this is the sound of your summer on Commercial Suicide, and one I fully expect to hear on the beaches at Sun & Bass this year!
Watch out for these two dropping August 19th on vinyl and digital.