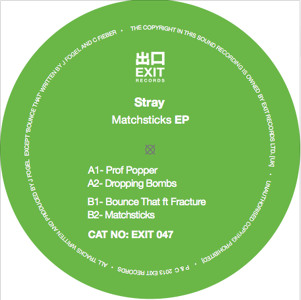 Following on from his excellent Ginseng Smash 12″ for Critical, Stray once again revisits the footwork-influenced side of 170 on his latest EP for Exit. Prof Popper feels like Ginseng at 5am…the same syncopated riddims and cut up vocals are present but the overall vibe of the track is much more laid back, with smooth pads allowing the track to float along on a mellow plane. Dropping Bombs provides the antithesis, amping up the drums for a totally bouncing raved up belter.
Bounce That sees Stray teaming up with Fracture for a tune that's one part half-step and one part old skool Jungle with a hint of ghetto-tech thrown in for good measure. Eerie keys and a drum line that sounds like 4×4 garage on steroids prevail on the duo's evolution of the sound Fracture pioneered on Get Busy. Last but not least the titular Matchsticks takes things back to a more mellow place, bringing a skanking LA hip-hop vibe to the mix; this could just as easily have been written by Flying Lotus, and it sounds fantastic for it.
As usual Exit and Stray are at the cutting edge of all things 170. Check out the beats bellow and watch out for the EP dropping October 28th.