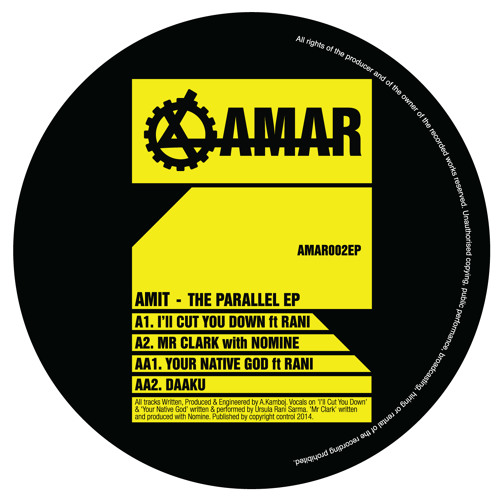 Amit presents the second release on his own AMAR imprint, once again teaming up with Rani for vocal duties and presenting his signature style at both 170 and 140. I'll Cut You Down treads a similar path to Human Warfare, with chunky half-step beats and tons of atmosphere, while Mr Clark goes dark and hypnotic, combining heavy sub, an old school reese lead and intricate, syncopated percussion.
On the flip side the 140 tunes come out, beginning with the classic dub sounds of Your Native God. Horns, sirens and sub are all in full effect here but the whole thing still has that signature Amit creepiness. Fans of The Bug's King Midas Sound project should enjoy this one. Last but not least, Daaku strips things back to the bare essentials and gets that old school lead back on the go for a tidy slice of modern dubstep.
Check out the clips below and watch out for this one dropping on vinyl and digital from March 3rd.