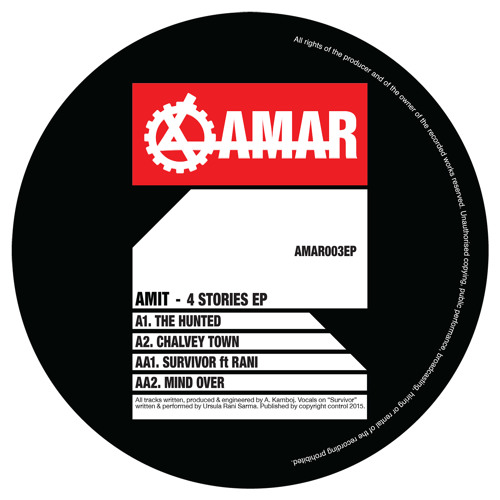 Fresh material from AMIT is always a treat, and a relatively rare one at that. The elusive producer seems content to buck the trend that sees many in the scene releasing new records as much as twice a month, preferring to bide his time and hone his craft, and the quality of his output is a fierce testament to that ethos.
As with the previous two releases this latest selection of beats comes via AMIT's own AMAR imprint, and spans a variety of tempos while exploring his very distinctive sound. Hunted follows in the footsteps of Human Warfare and Killer Driller, blending ominous vocal samples and old school reese bass with a half-time gate and more than a hint of techno as the kick drums drive the tune on. Chalvey Town meanwhile brings a dub vibe to the table set over another techno-esque kick beat, bending the 170BPM tempo to his unusual template and sending it out to space.
Frequent vocal collaborator Rani pops up on Survivor, which sees the tempo drop to 140BPM and the tone back in haunting, creeped out territory. Last but not least, Mind Over stops the flirtation and jumps into techno territory with both feet, to great effect. Check out the clips below and look for the EP on vinyl and digital via the AMAR Bandcamp.