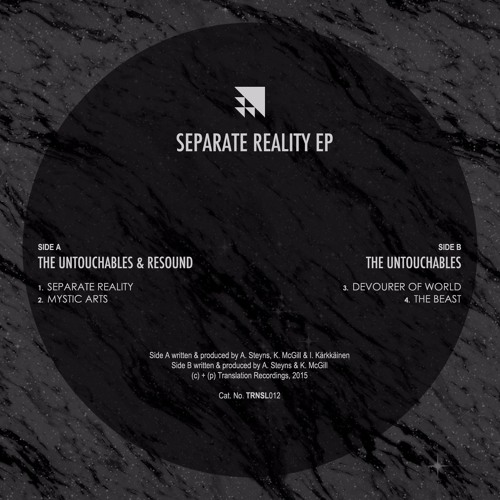 Esteemed US imprint Translation returns with a fantastic new 12″ EP from crafty dubslingers The Untouchables, with a couple of guest appearances from the equally crafty Finish Beatsmith and collaborator extraordinaire Resound.
If threatening, dubbed out minimalism and tribal rhythms are your bag then you might as well just stop reading and buy this right now; the EP delivers in spades on that front, and the halftime fanboys / room 2 train-spotters are doubtless already salivating over this release. Rightly so; the material here carries that blissful combination of hefty bassweight, crisp but spacious beats and terse atmospherics that made the early dubstep sound and the thriving deep halftime scene so satisfying.
This EP isn't full of surprises by any stretch but the hypnotic echoes and resonating sub pull you in over and over, like a warm blanket of sound encasing you completely. Those that find the halftime rhythm slow / boring aren't likely to be any more sold based on this outing, but it's their loss; one for the heads that know! Check out the clips below and hit up the Translation Store to grab this on vinyl or digital right now.