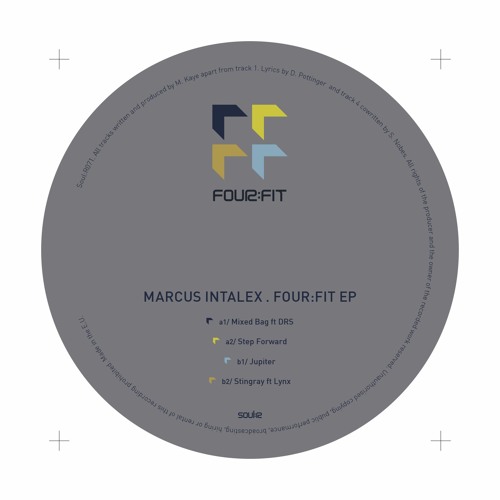 The four track EP has a fine heritage in drum & bass, and with good reason. While everyone loves a solid two track single, the EP format allows for the exploration of a theme, either by a single artist or a like-minded collective. It doesn't carry the pressure of an album, but it provides a great platform for creative expression across an easily digestible four-course musical meal.
While the heritage of these EPs very much lies in the distant vinyl heyday of the scene, the format has nonetheless carried through to the digital era and its appeal proves undiminished by the digital format. Enter Soul:R, and their hugely enjoyable Four:fit series, which now delivers its eighth volume courtesy of label chieftain Marcus Intalex.
With a host of strong entries to the series from the likes of Calibre, Seba and Skeptical there was a high bar to meet here, but the ever reliable Intalex has turned in a solid selection more than worthy of the existing legacy. From the deep halftime growlings of Mixed Bag, through the stark, moody Step Forward and into rowdy amen smasher (and Dojo highlight) Jupiter, this is vintage Marcus through and through, and the EP closer sees Lynx hop on board for a fantastic roller on Stingray.
Once again Soul:R are at the top of the game when it comes to deep but still dancefloor worthy D&B. Check out the tracks below and hit up their Bandcamp store to grab a copy on vinyl or digital right now!
[bandcamp width=100% height=274 album=343579035 size=large bgcol=ffffff linkcol=0687f5 artwork=small]