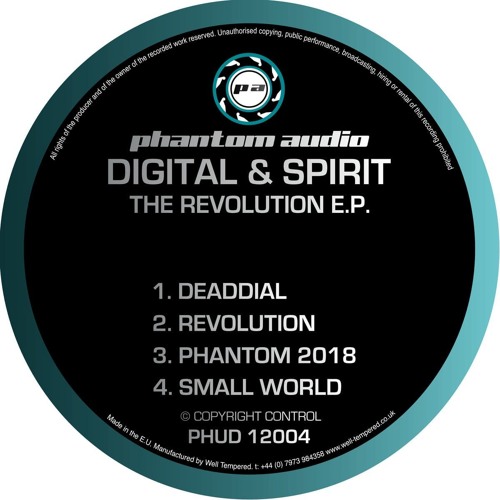 Digital & Spirit's very intermittent release schedule for their Phantom Audio imprint continues this month with an EP that's been anticipated for a serious length of time at this point. Anyone who's seen either of the duo (or indeed any of their numerous friends in the scene) DJ in the last year or more will undoubtedly already be familiar with the two classic reworks on the EP; Deadline / Dial Up mash-up Deaddial and the 2018 update of Phantom Force have both been smashing up the raves for quite a while now.
It's perhaps testament enough to the skill of Digital & Spirit as producers that both the original versions and these new remixes still sound fresh after years of being hammered in clubs around the world, but if you needed any further evidence then just check out the other two tracks on show on the EP; to turn a slightly trite phrase this release is most certainly all killer, no filler.
Revolution serves up that dubby halftime that Digital in particular is well known for, but the percussive fills and booming claps make this one anything but sluggish. Small World meanwhile brings classic amen choppage and old school rave stabs more than capable of injecting some energy into the dance. Future classics no doubt, and a winning addition to an absolutely must-have EP. Check out the clips below and hit up the Phantom Audio bandcamp to get your hands on digital, vinyl and t-shirts.