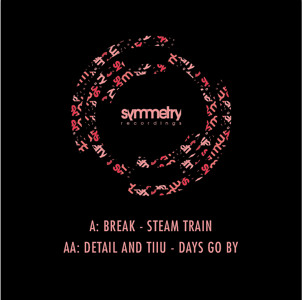 In the wake of the excellent The Other Side LP and a seemingly endless series of remixes and collabs for other labels, the ever prolific Break has found time to cook up another doozy for his own Symmetry imprint. Steam Train rolls into the proverbial station with some nice hissing samples, classic chord stabs and a beefy bassline that's sure to move the crowd.
Over on the flip Detail & Tiiu go in deep with Days Go By. Mournful synths and an echoing, folorn vocal intro the tune before a brooding sub rumble adds the bass weight. Soulful, introspective and brimming over with musicality, the simplicity of the production is what makes this tune; rather than crowding the mix with unnecessary layers, Detail has stripped it back to the bare essentials.
Watch out for these dropping July 15th on vinyl and digital.