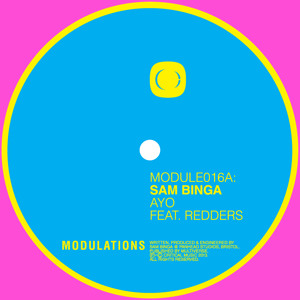 Critical sister-label Modulations continues it's fine tradition of putting out the less conventional end of the 170BPM sphere with it's latest release from Bristol's Sam Binga. AYO kicks things off with an MC-led halfstepper featuring the vocal talents of Redders over a distinctly trap-influenced beat that brings to mind Fracture's half-time explorations in terms of drum structure, but moves off into synthier territory for the lead and bassline. The influence of EPROM and the glitchy LA hip-hop sound shines through here to give the tune real character, not to mention a healthy swagger.
Freezy keeps things bouncy and half-time but ups the syncopation, drawing on classic jungle breaks and some ghetto-tech/footwork style vocal cuts for an effortless blend of slow and fast. a hypnotic lead line and some tasty old-skool rave stabs fade in and out of the mix for extra sizzle. Lastly for the digital buyers 8 Barr ups the glitchyness with a tune that's sure to have crowds raising a gun finger or two for the deadly subs.
Check out the tunes below and watch out for the release from October 7th on vinyl and digital.