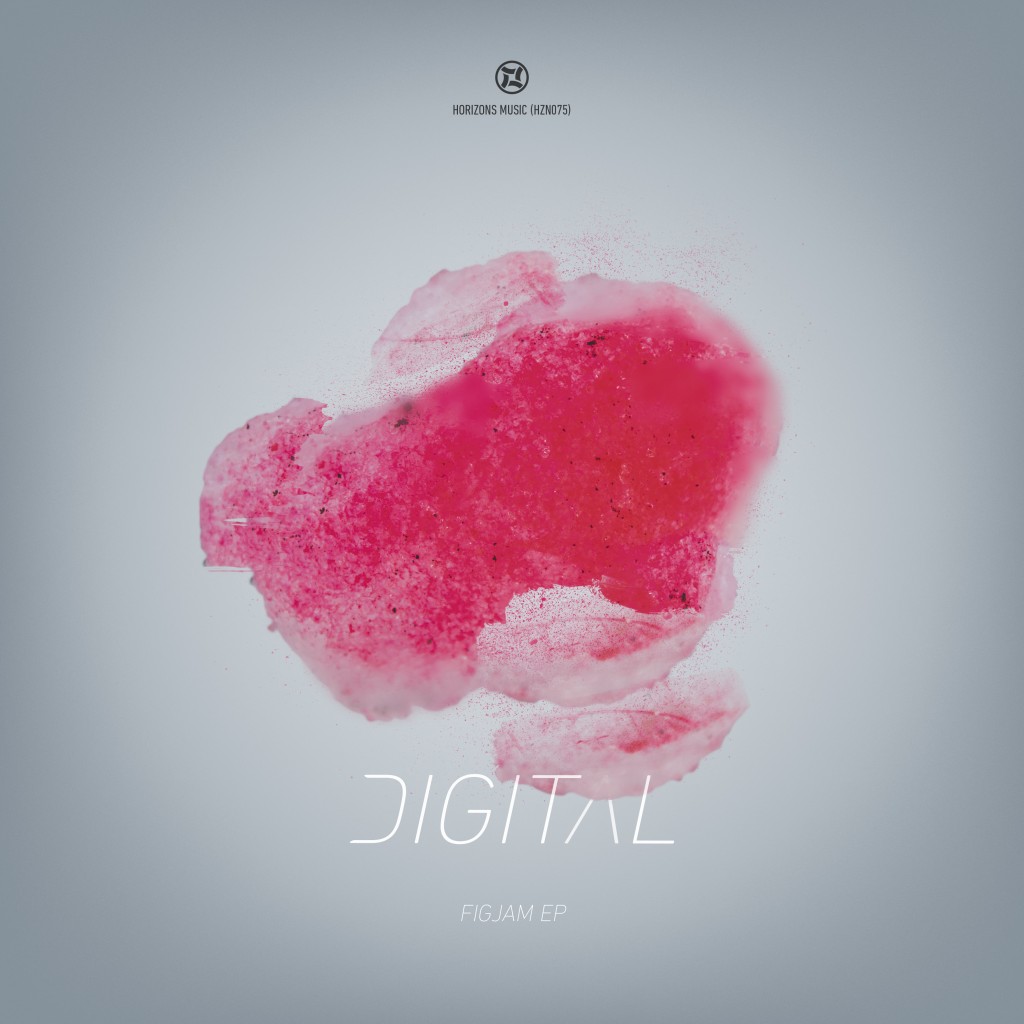 Scene stalwart Digital brings his wares to Horizons Music with an EP of tasty new leftfield rhythms. Figjam kicks things off with big reese bass swells set over a drum line that starts slow with nothing but kicks and hats on the intro before dropping into a syncopated frenzy of processed breaks a few bars after the drop.
Waiting heads for deep territory with a simple yet hypnotic melody layered over warm sub and a crisp, stepper's break, with soft synthetic strings adding character. Therapy proceeds to drop things down into dubby half-time territory with varied percussion and hordes of atmosphere. Finally the Slowjam mix of Figjam rounds things off by turning the title track into a 140BPM workout drenched in delay and reverb.
To find out a bit more about the EP we caught up with Digital for a quick chat. Read on for his thoughts on track names, the D&B scene and the best studio snacks!
DNB Dojo: Tell us about Figjam, specifically the name! Are you bragging, or just a big fan of preserves?
Digital: No bragging here! I was in Australia at the time and my other said, 'Do you know what that means?' I said 'No but it's very tasty with cheese!' (as I was stuffing my face with fig jam, biscuits and cheese). This shows how awful I am when it comes to naming tracks hmmph!
DD: This EP is your first release on Horizons, how did that come about? The tunes certainly fit the vibe the label is known for.
Digital: Horizons and I have always had a good relationship whether I'm playing their tracks or we're just talking about music but recently the label owner has said 'Oi! Its about time you did a 12″ isn't it?' He's right so I did it!
DD: You've been in the scene for almost two decades now. What's changed over the years, and what keeps you coming back to D&B?
Digital: A lot has changed over the years regarding the sound quality which I think has improved in some ways but not in the loud compressed way, the formula for making tracks which I think people have got a bit lazy with, plus the way you come through as an artist because it seems like you don't even have to make a big track to get noticed, you just have to fit in. So what really bugs me is people hating on guys that make it big through hard work and massive tracks. As a genre we never use to hate our own.
I see too many people hating on the commercial side of D&B where DJ's and artists like Pendulum and Fresh are playing to thousands of rowdy sweaty people partying hard til' the early hours. These guys have earned the right to play In front of massive crowds because they've made huge tracks but I see a lot of artists who have made two or three deep tracks get mad love because they're on a fashionable label looking cool in pictures. It's bullshit.
Oh and I nearly forgot…nothing really keeps me returning because I never go anywhere! But hey I love DJing, partying and producing because it's a part of me that I like haha.
DD: The Phantom Audio imprint relaunched last year with some tasty remixes and a pair of fresh tunes from yourself and Spirit. Can we expect more on that front this year?
Digital: Yes for sure. There will be one or two 12″s on Phantom Audio this year but we also have tracks forthcoming on Metalheadz, Horizons and the 31 Records LP.
DD: Despite having loads of tunes under your belt the one people probably know best is Deadline. Do you ever get sick of hearing it, or being asked to play it in sets?
Digital: I get sick of people sending me remixes of it. At the time Dub Phizix sent me his I had a gut full due to the back to you remix competition so I hated that too however, 18 months later after I'd calmed the fuck down I'm really into it so it will see vinyl sometime this year.
DD: Last but not least, what's your favourite studio snack?
Digital: Raspberry Yoghurt go bars
---
As usual with Horizons you can pick this up on limited white label from their store now with full artwork vinyl and digital to follow.