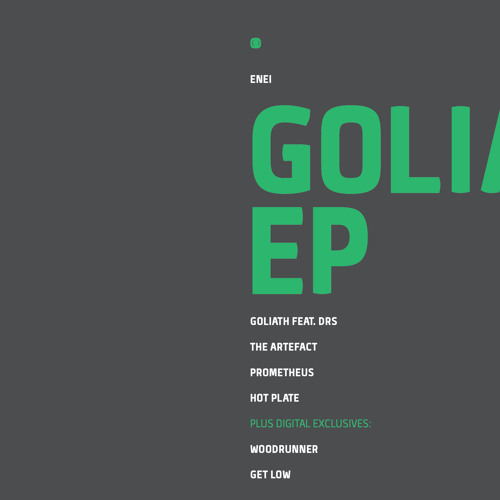 Enei returns to Critical Music with a great new EP featuring six dynamic new cuts straddling various styles of D&B. Goliath opens the EP with a jungle-break workout imbued with a great DRS verse and some nice bass and FX stabs. The Artefact proves an entirely different beast, opening up with soundscapey pads and a tribal kick beat and evolving into a morphing landscape of bass and breaks which seems to have been crafted for love rather than any kind of dancefloor sensibilities, and is all the better for it.
Prometheus on the other hand certainly has both feet planted firmly on the dancefloor; bass swells and a hypnotic melody build tension on the intro before we're hit with a stomping beat and a fuzzy bassline. While possibly the least interesting composition on the EP, there's no arguing with the heft and groove of it.
Hotplate switches things up once again, keeping the trademark Enei eery synths but placing the emphasis on frenetic loop chopping and drum edits a plenty; imagine Stray's recent material for Exit but with a techier edge. Woodrunner slaps down an infectious full-roll beat with some interesting percussion samples over a simple but effective sub line. Last but by no means least, Get Low combines hefty sub drops with a plodding trap-style drum line, filling in the gaps with skittering jungle loops.
Check out the clips of the EP below and head over to Surus to grab the EP on vinyl or digital now! Worldwide release will follow from June 9th.