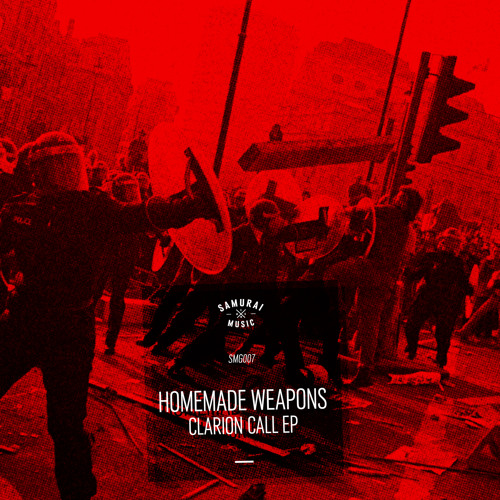 Seattle based producer Homemade Weapons has carved out quite a reputation for himself as a purveyor of stark, militant beats and his latest EP for Presha's esteemed Samurai Music imprint is possibly his finest work to date. The title Clarion Call (and indeed the cover art, featuring images of riot police fighting protesters) should give you some idea of what to expect; this is angry music with more than a little edge to it.
The EP's first half hits the hardest, with tough break chopping and brooding sub a-plenty, with highlights on the positively snarling Clarion Call and the relentless kicks and breaks of Mileena VIP. The digital only tracks on the second half take things deeper, keeping the ominous tone but reeling in the breaks in favour of more spacious halftime stylings.
Overall the EP is a fearsome selection of material for those who like their beats at the moody end of the spectrum. Check out the clips below and hit up the Samurai store to get a copy on digital now. Vinyl heads, if you haven't already grabbed a copy direct from Samurai you'll need to keep an eye on the usual outlets when the record reaches general release.
If you're looking for more from Homemade Weapons the man himself has just mixed the latest installment of the Samurai Podcast; check out his murky selections below.