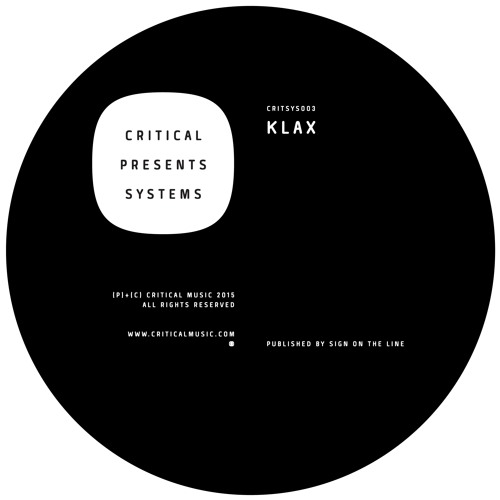 Brighton production trio Klax are kicking off their 2016 in a big way with their entry to the Critical Music Systems series, following on from the previous volumes by Halogenix and Fre4knc.
Systems Vol. 3 continues the Critical trend for genre-blending experimentations, bringing together the energy and intricacy of D&B with the influence of hip-hop and the wider world of bass music for a potent selection of sonic weapons. The appropriately titled Ritalin leads the charge with an onslaught of off kilter drum rolls, hard metallic snares and ADHD vocal chop ups. Hotline continues this theme, slowing the roll slightly to focus on a hip-hop swagger and the influence of trap and footwork, while The Level brings more of a carnival vibe to the table.
Just to switch things up a bit we're treated to a thoroughly tasty remix of previous Klax/Critical outing Blackball with Foreign Concept lending the tune his own distinctive touch. The distinctive bassline remains but the previously stark arrangement are replaced with a more rolling breakbeat and some extra pads to pack the tune out a little. Last but by no means least Wait For Me provides one last hefty halftime stomper, and stomping it is with massive kicks, echoing claps and some pretty badass synth action on the go.
As we've come to expect now Critical continue to push the envelope of what D&B can and should be, while keeping it firmly dancefloor focussed. We'll have plenty more of this please; check out the clips below and hit up the Critical Store to grab the EP on vinyl or digital now.