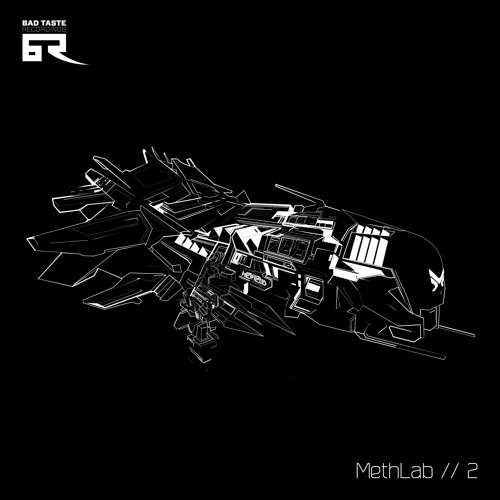 With a fresh compilation EP dropping on Bad Taste today and a host of new ventures recently announced, Methlab continue to make powerful moves in the neurofunk world. To find out more we grabbed the agency boss Jef and Kloe from Bad Taste Recordings for a chat about why he started Methlab, collaborating with Bad Taste and his thoughts on the neuro scene today. Check it out…
DNB Dojo: Hi Jef! What's going on in your world today?
Jef: Hi Henry! Working in the office – exciting things like going through emails. In addition to our work on bookings, we're working on the press for MethLab // 2 at the moment, and waiting for summer festival season to hit.
DD: Let's have a little history first…how did you get into D&B, and what inspired you to start the Methlab Agency?
J: I was playing guitar in a grunge band at school, was always into experimental music from labels like Warp and Skam and then the commercial D&B that escaped the underground scene like Roni Size – Reprezent. My drummer took me to a rave in Portsmouth when we were 17 and then I understood the reality of the music in the context of a club and got hooked, discovering the heavyweight DJs and producers of the time like Bad Company, Nicky Blackmarket and Andy C and raving to their tunes around 2001/2.
When I moved to London in 2003, Renegade Hardware and RAM nights at the end were a staple and I got some decks and started buying records…a combination of digging and friendships drew me to artists like Ed Rush & Optical, Photek, Noisia and Instra:mental but also the heavier sounds of Current Value, the Dying Punks and the techno-hybrid sounds of labels like Offkey. I just searched for the music that made me feel something…precision, power, progression and sensitivity to the spacing and complexity of individual elements that make up a tune definitely provoked interest. I'm not the kind of person who can listen to just one type of music, but D&B is definitely the genre I feel opens up the most pathways to experimentation and the genre I feel closest to because of its continual evolution.
I started a clubnight in London with DjRum (2nd Drop), Rrritalin (Coin Operated) and another friend, called Yardcore, which also went on to be a radio show. We had acts like Dom & Roland, Remarc, Vex'd, Amit, Tech Itch, Boxcutter, Various Production…as well as deeper sounds such as Andy Stott. The night went on for a few years and was pretty successful…difficult to imagine a similarly diverse night being successful in the current climate. During my time promoting I found some agencies to be very pro and others to be lacking…I saw a niche for doing it right and around the time of contemplating the possibility of starting something.
The primary initial concept and the drive to create MethLab, as well as the initial framework was brought to me by Tommy (Broken Note) who was interested in building a similar entity that was based on supporting artists that were doing something different. At the time we both felt there was no entity supporting artists who had a large fan base but didn't fit into what we perceived as a ridged, genre-specific structure that most agencies abide by…we saw a niche for doing it right. Because of our strong friendship and hands on experience from both sides, artist and promoter, we were able to take the concept of MethLab and develop it together, starting the basis for what exists today – an agency that shares a mutual respect for both artists and promoters.  In terms of learning about the industry and getting the initial contacts required to make this work, this partnership was and remains an essential part of our setup. But our ideas and inclination to create something quickly extended beyond that, and we started to work on our vision. Five years down the line and we're just starting to properly express that.

DD: So just recently Methlab has branched out and started the label arm of Methlab Recordings. What brought about this decision, given that all of the artists you work with already release music via the biggest labels in the neurofunk scene?
J: It's a great question, one that we've certainly asked ourselves along this path. In my opinion the most important element of establishing a label is having something to say – a unique vision, identity and specific taste in selecting the music that is chosen to be showcased. As a manager of the artists involved in MethLab, my priority is ensuring that music gets placed where it will go the furthest – which means on the most established labels that it can reach. However, every label releases a specific strand of music in accordance with their identity, and there's plenty of unusual music that doesn't find a natural home – these are tracks that we're interested in, in addition to certain projects like BNKR or our other forthcoming label projects where we have what we feel is a unique aesthetic in mind.
Label ideas have always been there for us because we feel as though we do have something different to offer in terms of the sound we want to push and the visual identity that's paired with that. We feel like we have something to express and show that doesn't currently exist, and have tried and tested our concepts with good responses at our label nights, and in relation to the releases that we've had involvement in to date. I'd like to think that our attention to detail is apparent, and that our commitment to framing the music with exciting visuals (such as with Billain – Metal Jaws) and teaser videos that widen the narrative of the releases we work with, or commitment to exploring new technologies that add additional contexts to listening (such as the MethLab interactive player) are part of what defines us.
DD: You're about to drop Methlab // 2 in collaboration with Bad Taste Recordings. How did you hook up with Bad Taste, and what made them want to showcase the Methlab sound?
J: We had audio material and artwork concepts for our label coming together for a couple of years, and had started collecting material which we initially intended to put out ourselves, some of which is still intended for future releases through our own channels. Through working with Bad Taste in the management of our artists in affiliation with them we discovered that we had a lot in common and loved working together. They liked the the overall aesthetic of our roster and visual concepts, and extended the offer to create something in collaboration with them to showcase our vision.
I believe strongly in partnerships, and the opportunity to work with one of our favourite labels to present our aesthetic was the best way to do so. We have a mutual love of similar artists in some areas, and appreciation of diversity and quality of sound, so working together on a collaborative project came naturally. We brought the material that we felt best represented our roster which was then discussed and compiled together to form the first release. Following the success of the first EP, we decided to do another and expand upon that – pulling all of the creative resources of MethLab together with the label infrastructure and experience of Bad Taste to contribute to the quality of the record and make something unique.
Kloe: Jef and I met because we needed to talk regarding projects with Billain. Bad Taste has been Billain's home for a long time now so it was natural to get to know his manager when Billain joined the MethLab Agency. Having previously worked with other artists from the roster, we proposed to Jef the concept of an EP showcasing the sound of the agency. I love the the colour and artistic direction of the team, it represents a more free approach of what neurofunk stands for, with a very specific aesthetic. Jef found the offer very interesting in terms of teaming up to release good music, and the project just came really naturally.
DD: The release features some unusual tracks such as the odd rhythms of Ritual and the incredible downtempo sound designs of Audeka & Rawtekk's Samurai. Did you deliberately seek out some unconventional material, or were you just surprised by some of the contributions?
J: Tracks with deeply unusual character like this have great appeal to me, it's definitely the kind of material that we seek out and it really shows the extent of the creativity and skill of the artists involved. What's really of interest to us is pushing new forms of music that defy conventions. This is the music that I personally consider to be timeless. The results in this record are from crafting a release that we feel expresses a wide-spectrum of tech-influenced music, and yet is consistent…everything on this record ties into the sonic narrative and belongs there.
DD: So far the releases in the MethLab series for Bad Taste and from the Methlab Recordings imprint have been of an incredibly high standard. Are you very picky when signing tracks, or just lucky to work with the best artists in the scene?
J: It's a combination of both elements – but then we don't pick the artists who are part of MethLab randomly, they are all producers that we have a very deep and long-running respect for. We also believe in their entire output, no matter how diverse, as opposed to a single strand of their sound. Everyone who is onboard has been carefully chosen and I believe that we all share a mutual respect for each others work. MethLab as an entity exists to support those who are a part of it, and every project that we develop has that principle at its core – we only do things ourselves when we feel that we are the only entity that will do it justice.
There are plenty of labels in existence doing a spectacular job in terms of neuro / D&B, and that's why for MethLab 1 & 2 we felt working in collaboration with Bad Taste was the best route. In terms of picking the tracks, we brought the best we had to offer for this release, which was then discussed, refined and compiled with Bad Taste. So it's a combination of being picky to start with, and then in this case collaborating and working together to sculpt the material into an incredible final product of a standard the artists involved deserve.
Kloe: Jef brought several tracks that we selected from together, sometimes after a long talk because we both want what's best for our artists, and the rest is history!
DD: Let's talk about the Terminal project you've started with Eatbrain and Bad Taste, what's your vision here? Is this just about clawing back some of the Youtube dollars from brands like NeurofunkGrid, or is there something bigger in the works?
J: Another good question – why start a new Youtube channel when there are already channels out there that exist and cover various areas of D&B. It certainly doesn't come down to clawing back Youtube dollars, which are fairly inconsequential unless the channel is huge. Most labels just unclaim releases placed on the existing channels in any case, because why shouldn't they get something for their support of the release – they are working over extended periods of time to build fanbases and curate their specific range of sound. As entities (Bad Taste – Eatbrain – MethLab) we all believe in the music that we put out and that comes through our rosters – but some unusual tracks fall through the gaps, and we want to be sure that we always have a strong home for our own material.
However, the Youtube channel is just one element of the Terminal project, with a focus on 360 / VR material (more is coming soon).Wwe are dedicated to pushing high quality visuals as well as the audio, and what you see now is just the beginning. Terminal is set to be much more, serving as a multipurpose platform for the three labels and offering something truly unique to ravers in future. The triumvirate of the labels involved is also unique…when people come together, so much more can be achieved.
DD: How do you view the state of neurofunk in 2016? While there are clearly some big talents out there it feels as though the genre isn't as innovative as it once was, with many formulaic tracks hitting Beatport etc. Is engineering and mixdown becoming too important, stifling creativity and musicality?
J: Different producers and labels are looking to achieve different things. I agree there is some homogenous action happening, but the drum and bass genre is also more diverse than ever. I prefer to focus on where the genre continues to get really interesting. Artists like Billain, Current Value, MachineCode, Disprove and Silent Witness are constantly pushing forward and developing new ideas…I believe that all of the artists who are part of our collective represent that consistent drive to create new and unrealised ideas.
DD: Something personal; give us your top 3 tracks right now, and your top 3 classics from the D&B scene.
J: Blinding fresh tech from Silent Witness that decimates raves:
Complete beast of a track from Current Value's recent Biocellulose LP on Critical:
Rawtekk showing their teeth, taken from their freshly released Here's To Them LP:
Classics:
Seven Samurai from Photek never gets old:
Roni Size – Brown Paper Bag; because it was really one of the tunes that got me into dnb – I'll never forget stumbling across this at Glastonbury live in around 2000.
Black Sun Empire – Arrakis: one of the tunes that really made me aware of the brutal power of neuro.
DD: Last up, any shouts or revelations about MethLab's plans for the rest of this year?
J: For MethLab Recordings, the BNKR series is continuing. BNKR002 – War & DjRum has just been sent for mastering and will be emerging soon, in addition to this we'll be putting out Audeka's LP in the summer, have a very special VA release that has been twoyears in the making, and are starting work on constructing another VA release showcasing our sound and roster that will be tied into a significant evolution of our platform.
DD: Wicked, thanks Jef!
---
You can check out the clips of Methlab //2 below; hit up Beatport to grab a copy right now, with full release following in two weeks time.
As if that wasn't enough, Methlab are following up their warmly received #DatSnareTho sample pack with #DemPadzNBreakzTho; check out the clips below and join their mailing list to get your hands on the pack when it drops. If you fancy yourself a bit of a neuro trainspotter then they're also running a competition to win some goodies by guessing which producer is behind each of the samples; hit up their Facebook page for all the details.