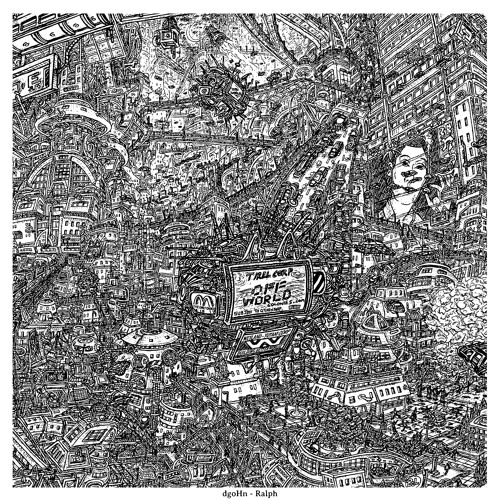 We're suckers for a bit of old school break chopping here at Dojo HQ so news that dgoHn would be returning to Love Love with more of his ruffneck jungle stylings was met with rapturous applause and jubilant celebration (not really, but we were pleased). Side-note: if you missed his rather excellent All The Fuckin As EP earlier this year then definitely go and give it a listen.
The Ralph EP sees dgoHn (pronounced "John", apparently) treading a well-worn path of breakbeat manipulation, stopping short of the full on breakcore of artists like Venetian Snares but nonetheless injecting a fair bit more chaos into the drums than is to be found in most modern drum & bass. The attention to detail is palpable too; every edit, glitch, reverse and FX stab feels placed for maximal efficacy, keeping the listener engaged with an onslaught of unpredictable kicks, snares and hats for a beautifully anarchic rhythm.
Asides from the two dgoHn originals, the EP also features a tidy remix from Rephlex producer Jodey Kendrick, who twists the relatively light and playful tones of the title track into a darker and more ominous flex, playing with tempo on a glitched-up halftime intro before knocking into full-roll choppage later in the track.
Tasty business all round; fans of Paradox, Fanu and the higher end of the beat mangling craft should definitely give this one a listen. Check out the clips below and look for the release on vinyl and digital from Sep 30th; pre-orders up now at the Love Love bandcamp.