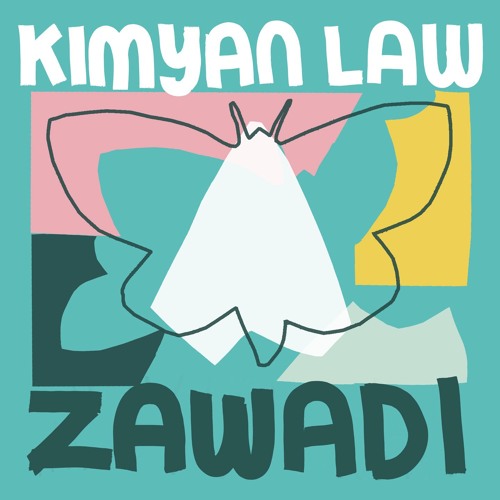 Reviewers often fall back on old adages about "that difficult second album" when reviewing an artist's sophomore full length, but such adages definitely aren't needed when discussing Zawadi, Kimyan Law's follow up to his exceptional 2014 debut Coeur Calme. The 21 year old producer's work continues to show a confidence, style and eccentricity well beyond his years, and the album is an absolute joy from start to finish.
As with his first LP (and indeed the other scattered tracks that have surfaced in between) Zawadi is wide ranging in it's influences and sonic textures, an aural melting pot taking in African music, jazz, pop, garage, jungle and who knows what else. Lush natural instrumentation combines with club influences, like on the unusual, amen-tinged glitchyness of Yore Dub or Motsa collaboration Citadelle, which sounds like something Burial might come up with if he'd found a xylophone and could be bothered to work on his mixdowns.
Elsewhere Luba sees Kimyan reconnecting with his tribal roots for a beautifully simple composition consisting almost entirely of natural percussion and chanted vocals, while album closer White Moth Anthem takes a leaf from the LA bass book to explore a lurching, low slung hip-hop jam with tons of swing and a haunting set of synth textures.
There's plenty of space elsewhere for more conventional D&B outings, whether on soft, liquid-y Phentix collab Mondegreen, stripped back roller Lavender or the deep halftime groove of September. Even on the more fast paced cuts all of Kimyan's material retains a softness; sharp edged hyper-clean production this is not. The use of organic instrumentation gives everything not just a unique character but a general effortlessness, and the use of space and reverb give the album a profoundly cinematic quality.
More than anything this album is an emotional, evocative collection of material that bears all the hallmarks of a young musician pouring his being into his music. Genuine, engrossing, enthralling and colourful throughout, this might just be the best album you hear this year. Check out the clips below and hit up the BMT Store to grab it on vinyl, CD or digital right now.