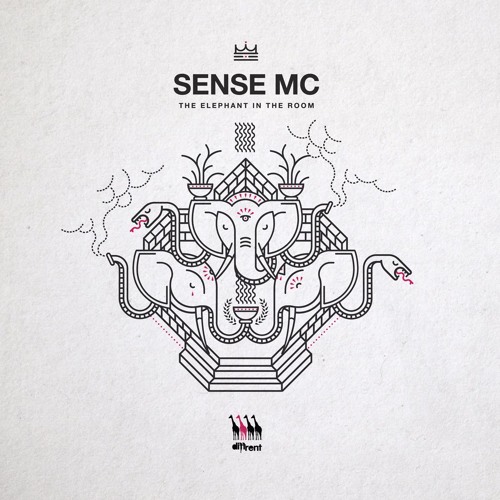 When it comes to D&B MCs, you can count those worth hearing outside the rave on one hand (and even those worth hearing inside the rave on a few hands more…). The jump from host in the club to the true lyricism required to spit bars on record isn't one that all wannabe microphone fiends have the talent for, but thankfully Sense has more than proven himself worthy of the task.
Many years in the making, The Elephant In The Room sees the self-described "illegitimate offspring of a scouse and a cockney" land on Diffrent Music accompanied by some of the best producers in the scene, with a plethora of material spanning D&B and hip-hop, dark and light, hype and chill. There are plenty of highlights in the uptempo region, from the coy and playful rhymes of Lynx-produced Disconnected to the aggy lyrical duel of After Dark, where Sense is joined by longtime friend and equally talented MC Codebreaker.
The lower tempo beats tend towards beauty and introspection, such as album opener Love Is… which muses on romance against an eclectic beat from Frank & Furter that brings to mind Frederick Robinson's work. Two Planets brings in jazzy influences and rhymes on an intergalactic tip, while Just A Ride closes the album with thoughts on the meaning of life.
Descriptions struggle to do the work here justice; the important point is that The Elephant In The Room is a polished selection of songs with depth beyond the usual hype-man lyricism or catchy verses found on MC-led tracks. We've no doubt this is only gonna get better on repeat listens too. Check out some of the tracks below and hit up the Diffrent Store to grab a copy on digital, CD or vinyl…as they've been telling us for weeks, #BuyTheAlbum.