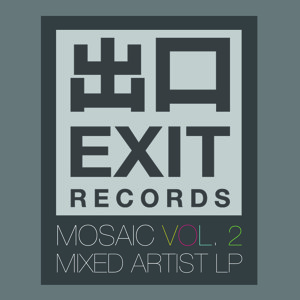 It feels almost redundant to be reviewing this but just in case anyone has somehow slept on what is definitely one of the best compilations of 2013, then feast your ears on Mosaic Vol. 2. Bringing together some seriously deep and innovative cuts from thirty different producers and spanning four plates of vinyl for the wax enthusiasts, Exit have truly outdone themselves.
Among the standout tracks (and this is a tough choice given the quality on show from all concerned) are the glitchy madness of Rockwell's *)*[808], the lush halfstep liquid of Synkro's The Way and the classic Fist Level 2B from Insta:mental (only been waiting three years for this one guys…)
Elsewhere Kryptic Minds deliver a fantastic slice of moody halfstep with Burnt To Ashes (a rare return to the 170 tempo since their exit to Dubstep realms several years back), Om Unit and Sam Binga collab on some deeply hip-hop/footwork influenced business, and Fracture & Dawn Day Night bring us the sounds of the ghetto on Sick Wid It. Check out clips of every track below and watch out for this one dropping on digital July 29th with vinyl following on August 5th.