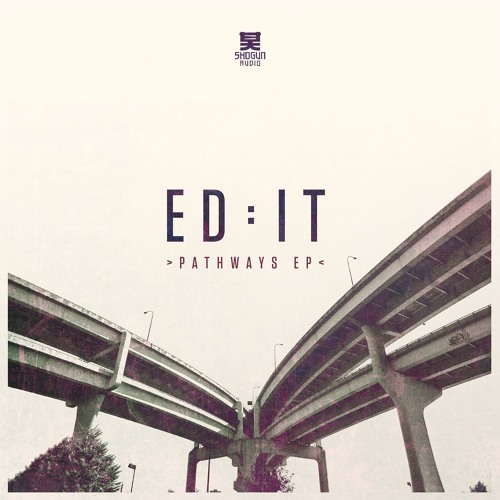 Another month has flown by in a flurry of wind, snow (here in Scotland at least…) and beats, so it's time for another roundup! New material from Ed:it, Ghast, Saxxon and more after the jump…
Ed:it – Pathways EP [Shogun]
Since his first forays into the scene in 2010, Ed:it has carved out quite a reputation for tough yet soulful beats and has netted releases on an impressive array of labels including Blu Mar Ten Music, Commercial Suicide, Hospital, Dispatch and Shogun Audio. Having now signed exclusively with Friction's imprint, it seems Ed:it's ascension into D&B's premier league is complete, but thankfully it doesn't seem like fame has gone to his head just yet.
His first solo EP for Shogun showcases the breadth of his style and ability, kicking off with the mellow and melancholy Pathways before moving onto techier vibes on Viewpoint and the militant Night Creeper (ably voiced by Linguistics). For us though it's all about Pennygiles collab All Away, which provides a perfect match of rugged breaks and soulful musical elements, the perfect alchemy of each producer's styles together as a whole. As usual you can hit up the Shogun Store or your favourite digital shop to grab this one.
Saxxon & Calculon – Alley Girl [Voyage Music]
Fresh US imprint Voyage Music kick off their musical journey with a tough edged roller from Saxxon & Calculon. Bazil steals the show on the flipside with tasty bassline switchups and extra break chopping on the remix, though the original is a worthy slice of dancefloor funk too. This one is out now at all the usual digital outlets, and stay tuned for more from Bazil on the label's second single when it drops.
Reds – Judgement EP [Fokuz]
Fokuz take a break from their usual onslaught of melodic rollers to deliver a selection of slouching halftime steppers from Reds. The usual Fokuz quality is evident throughout, and the crisp percussion and dubbed out basslines are well worthy of attention to those who enjoy their beats a little less insistent.
Sage – Shudder EP [Anamorphic]
Belfast label Anamorphic return with their second release from San Francisco based producer Sage who is making a comeback after more than a decade away from the scene. If you like lush, detailed rollers then you should definitely check this one out, and you can grab yourself a copy from Juno right now.
QBig & Zenith B x Konfront.Audio – Staredown EP [Flexout]
Tribal riddims and threatening basslines a-plenty as QBig & Zenith B join forces with Konfront.Audio for the latest release on Flexout. Fans of the label (and indeed fans of all things dark and deadly) will definitely enjoy this one!
Solace – Cosmic Force [Modular Carnage]
Solace takes things grimey for Modular Carnage with two dubbed out, gloomy half-steppers and a slightly more rolling remix from Proto Adam & Alpha Eve thrown in for good measure. Tasty!
Ghast – Insatiable [Free Love Digi]
Our favourite US imprint returns with another eclectic electronic exploration from experimental beatsmith Ghast. The chaos of the original is endearing, but for us Sinistarr takes the gold with a stripped-back, break-focused remix.
Ghoar – Feel Me EP [Delta9 Recordings]
Last but not least, Ghoar brings us a helter skelter selection courtesy of Delta9. Keeping the vibe rugged but moving away from the more obvious techstep and neurofunk releases usually found on the imprint, Ghoar's work here blends influences from breakcore, old school rave and who knows what else into some really unique compositions characterised by frantic, off beat drum rhythms reminiscent of some of Reso's recent work. Yes please!