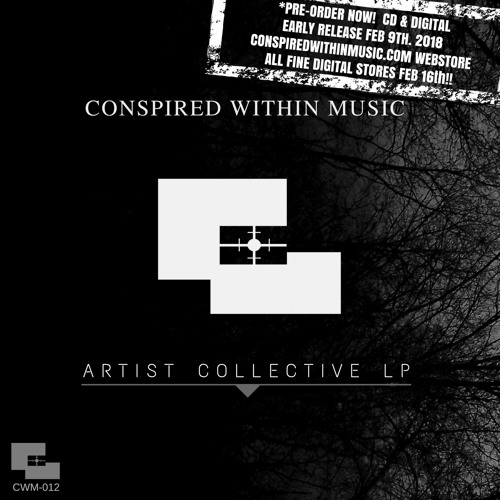 US imprint Conspired Within Music are back with a big release this month in the form of the Artist Collective LP. Featuring tracks from many of the best names in the dark halftime game, the LP is a pretty formidable statement of intent from a group of producers who share a passion for gritty, minimal beats and bleak soundscapes.
Tracks range from militant percussive steppers courtesy of Epilleptech, through to techno infused grinders like Tobe:n's Shinigami. There's a few seriously hefty tracks in the pack too, such as standout number Burning from Out of Fuel & Criba – the bassline on this one will shake your foundations! Elsewhere the LP contains thoughtful and interesting new beats from the likes of Kit Curse, Medika, Akinsa and label boss Conspired Within.
We could waffle on further about the tracks on here but you're far better off listening for yourself; rest assured you'll find a great selection of music bound together by an emphasis on percussive precision and atmosphere. One for the heads that know…check it out and hit up the label Bandcamp store to pre-order now on CD or digital; the LP drops there Feb 9th with all other stores following on the 16th.