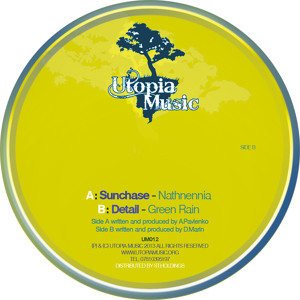 Mako's Utopia Music delivers another top notch 12″, showcasing yet more proof of the labels refusal to be pigeon-holed to a single style of D&B.
Sunchase steps up first to deliver a super chilled, ethereal piece of 170 that would feel very much at home on Blu Mar Ten music. This one's up there with Bungle's recent masterpiece for Soul:R, truly beautiful music.
Over on the flip Detail comes in with a more dancefloor-oriented number, bringing growling low end and hefty kick drums, punctuated with double time distorted amen bars to keep the crowd on their toes. Beauty on the A-side…beast on the B-side!