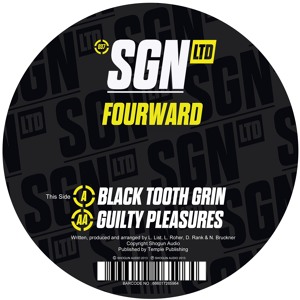 SGN:Ltd's run of top quality darker beats continues with a double-A side from Austrian production quartet Fourward. Black Tooth Grin delivers the kind of warped, gnarly neurofunk we've come to know and love from Fourward, who have arguably some of the best bass action in the game right now.
Over on the flip Guilty Pleasures strips things back, delivering a menacing slice of splintered half-step. Think Fracture versus Noisia and you're somewhere close.
Watch out for the release dropping October 6th. As if that wasn't enough, the boys have compiled a tasty promo mix for the fifth installment of the SGN Mix Sessions series; packed full of tunes from Noisia, Phace, The Upbeats, and of course plenty of their own productions, this is straight up neurofunk badness. Check it out below and grab a free download!