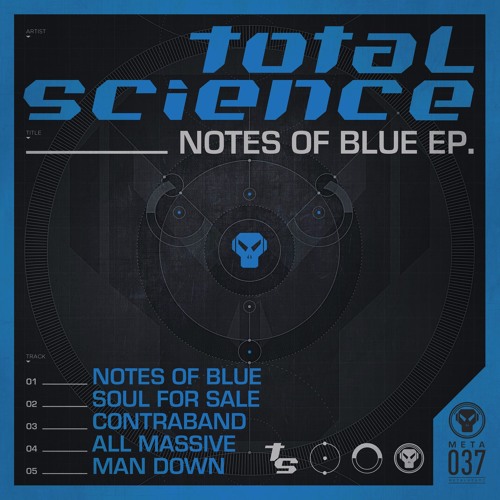 Metalheadz have been on quite a roll for the last couple of years; after arguably a little bit of a lull their recent release schedule has seen a stream of quality releases that even other labels of similar heritage have struggled to match. Their latest offering from Total Science continues that recent trend, bringing five tracks of crisp, forward thinking D&B to the table in typical 'headz style.
Opener Notes of Blue is undoubtedly a nod to the legendary Blue Note sessions from the late 90s that proved such a formative time for so many notable D&B producers.  Eerie sound designs and the merest hints of jazz combine with deep dubby sub and beautifully processed breaks for a track that is at once playful and thoughtful.
That trend for "thinking man's" D&B continues throughout the EP,  with one foot rooted firmly on the dance floor while the other meanders off into less genre bound territory. From the soft vocal manipulations of Soul For Sale through the tough jungle breaks and dubbed out echoes of Contraband, the EP works well both as a DJ tool and a selection of tracks for the listener alike.
Digital bonus tracks All Massive and Man Down round the selection out with two odes to the classic era of 90s D&B referenced in the EP's title; the old school samples and the style of break manipulation still sound fresh today, and those polished modern mixdowns give them some serious punch.
We were pretty sure that Metalheadz and Total Science would prove to be a winning combination but this EP outstripped our already high expectations admirably. Check out the clips below and hit up the 'headz store to grab a copy now.