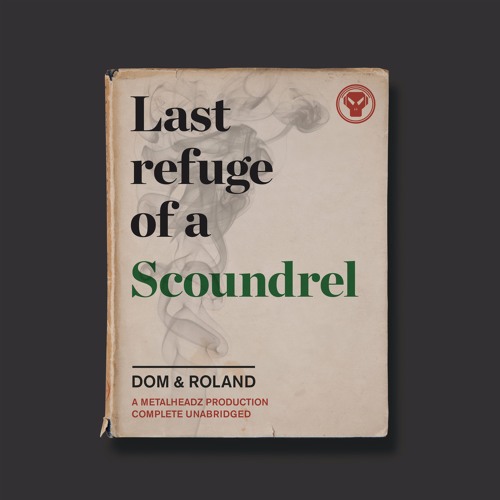 Where do you go when you've been a mainstay of the D&B scene for twenty years, with six albums already under your belt and a back catalogue spanning Moving Shadow, Renegade Hardware, your own immensely successful imprint and plenty more?
If your name is Dominic Angas aka Dom & Roland, you head into the studio and write possibly your best album yet for none other than the mighty Metalheadz. As one of few labels with both the pedigree and the reputation to match Dom himself, we can't think of a more perfect home for Dom's work, and anyone who's heard Goldie hyping the album over the last year will know they feel exactly the same way.
There's always the risk with any album from a producer this established that the results will prove either too far from their style or too close to it, but thankfully the line trodden on the enigmatically titled Last Refuge of a Scoundrel sits perfectly within these boundaries; recognisably Dom, but pushing his style in new and intriguing directions. Those new directions are found most prominently on vocal tracks Sacrifice and Sirens Song, featuring Natalie Duncan and Robert Manos respectively. Both tracks blend Dom's talent for heavy hitting, detailed percussion with a softer and more melodic side lent from the immensely talented singers he's recruited, and they make a welcome change from the instrumentals of the rest of the LP.
That's not to say in the slightest that said instrumentals become tedious; from classic Dom smashers like Tone Poem, Steam and Hive collab DMT through the hip-hop infused vibe of King of the Hustlers and out into more playful tracks like A New Renegade, there's plenty of variety and every track is presented with that match of precision and scuzz that makes the Metalheadz output some of the best in the scene. The layers of drum distortion and bassline growl on even the lighter tracks give this a punky edge that ultra-clean modern mixdowns so often lack, and that's just the icing on a very, very delicious cake. Check out the clips below and hit up the 'headz store to grab the LP on vinyl, CD or digital now.